Webinar: Support and rehabilitation of women in prostitution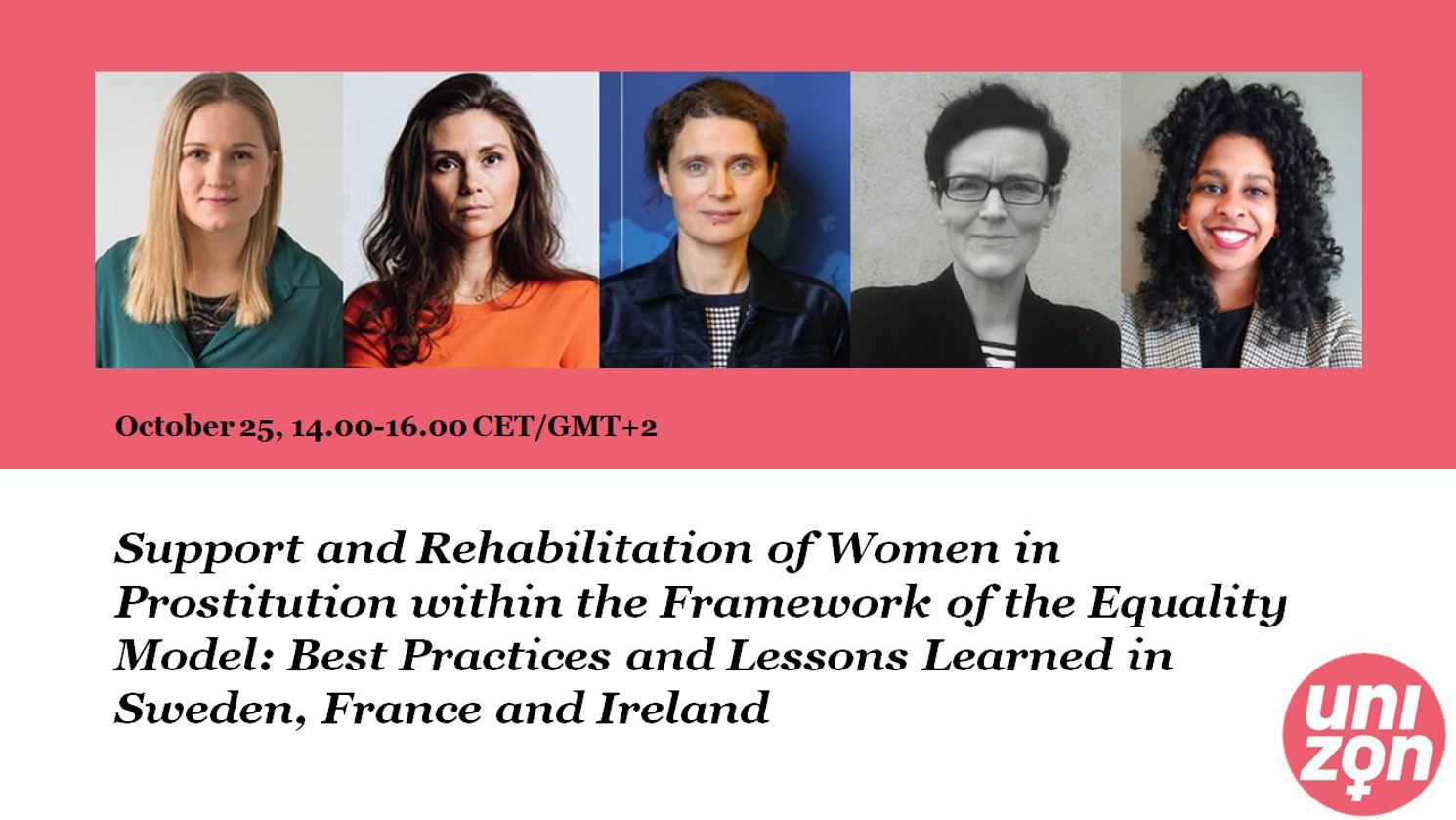 Support and rehabilitation of women in prostitution within the framework of the equality model: best practices and lessons learned in Sweden, France and Ireland.
What is the Equality Model and what are its effects? Does its impact vary depending on the national context?
Quite often, when talking about the Equality Model (also known as the Nordic Model), the main focus of the discussion is put on the criminalisation of the buyer/perpetrator. Help and support provided to exploited women is less discussed, and there are multiple myths about the legislation's impact on women in prostitution.
During the webinar, the experts from Sweden, France and Ireland will share their experiences of practical work with exploited women and girls within the existing legal framework and discuss how the legal framework of the Equality Model sets out an essential foundation for strengthening the survivors by putting the responsibility for the crime where it belongs – on the buyer.
Organised by: Unizon
Speakers:
Anna Ekstedt – Sweden's Ambassador at Large for Combating Trafficking in Persons
Zandra Kanakaris – Secretary General, Foundation 1000 Opportunities that runs the Ellencenter (Sweden)
Kajsa Rietz – Head of Preventive Work, Novahuset (Sweden)
Mia de Faoite – Survivor Activist, Policy Advisor & Campaign Coordinator of the Beyond Exploitation Campaign(Ireland)
Héma Sibi – Advocacy Coordinator, Coalition for the Abolition of Prostitution (CAP International)
Moderator: Cornelia Björkquist – Sexual Exploitation & Sexual Crime Expert, Unizon (Sweden)
The webinar is held in English.
Register for the webinar here